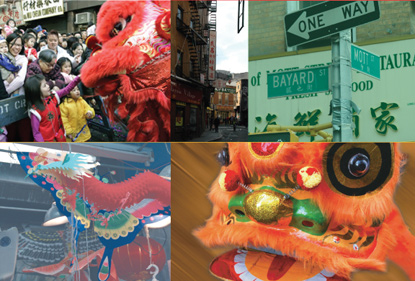 DANCE WITH THE LIONS
Spectators will have the opportunity to "feed the lions" or stand back and observe as colorful lions dance through Chinatown's winding streets on August 25, 2005. This 30-minute performance, beginning at 6:00 p.m. on Bayard Street between Mott and Mulberry Streets, is the last in a series of performances staged this month as part of Art Night Thursdays in Chinatown. Art Night Thursdays also feature live music, Chinese art history workshops, martial arts demonstrations and free tea tasting.
Art Night Thursdays are sponsored by the Chinatown Partnership Local Development Corporation and presented by Explore Chinatown, the initiative funded by the Lower Manhattan Development Corporation and the September 11th Fund and administered by NYC & Company. For more information on Chinatown and a complete schedule of events, visit www.ExploreChinatown.com.