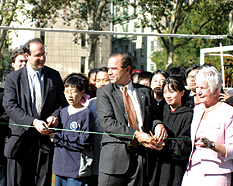 $2.1 MILLION IN UPGRADES FOR SARA D. ROOSEVELT PARK
On November 3, 2005, Lower Manhattan Development Corporation President Stefan Pryor joined Parks & Recreation Commissioner Adrian Benepe, I.S. 131 Principal Jane Lehrac and local students, for a ribbon cutting at the new Hester & Canal Street Field in Sara D. Roosevelt Park. The park is affectionately known by neighbors, students and the community as "Sara D."
New features include a synthetic turf field and a three-lane track that replaces the park's previous patched asphalt field. The park's Canal and Chrystie Street entrance was also reconstructed, and new paths, benches, lighting and decorative pavement were added. The $2.1 million project, funded by the LMDC, offers the surrounding communities increased park access for recreational opportunities.
In May 2003, Governor George Pataki and Mayor Michael Bloomberg announced the LMDC's allocation of $25 million to rejuvenate and create new green spaces throughout Lower Manhattan. Sara D. Roosevelt Park is one of 13 sites receiving funding. More »