Al Smith Playground Receives Makeover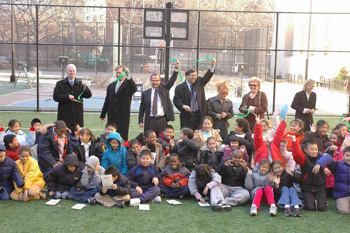 November 17, 2004 — Lower Manhattan Development Corporation President Kevin Rampe joined Parks & Recreation Commissioner Adrian Benepe and students from P.S.1 at a ribbon cutting ceremony at the reconstructed Al Smith Playground.
The reconstructed Al Smith Playground, located at 80 Catherine Street (between Madison and South Streets), includes new play equipment, a new basketball court, synthetic turf field, and new plantings and landscaping. The playground's water area and safety surface were improved and the comfort station was renovated. The roadway separating the two portions of the park was replaced with a garden pathway.
The reconstruction of Al Smith Playground is the sixth project to be completed as part of the LMDC allocation. Other recently completed projects include renovations at the East River Ballfields, Tribeca Park, Bowling Green Park and Washington Market Park.
More »