ONE OF THE LARGEST CORPORATE RELOCATIONS TO LOWER MANHATTAN SINCE 9/11 & NEW TENNIS COURTS REPLACE THOSE CLOSED AFTER 9/11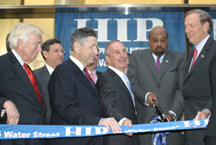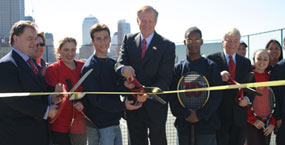 Governor, Mayor Cut Ribbon for new HIP Headquarters and Governor joined by Tennis Legend to Open New Tennis Courts in Hudson River Park
On this bright and crisp fall morning these two very different events contributed to one goal: the development of Lower Manhattan.
First, Governor Pataki and Mayor Bloomberg opened new corporate Headquarters for the Health Insurance Plan of Greater New York (HIP) with a ribbon cutting on Water Street relocating 2,000 employees to Lower Manhattan and HIP will create 500 new jobs at its new offices. This move represents one of the largest corporate relocations to Lower Manhattan since September 11, 2001.
More »
Then a short while later on the West Side of Lower Manhattan, Governor Pataki joined tennis legend Jim Courier, LMDC Chairman Whitehead, the Hudson River Park Trust, and the Stuyvesant High School Tennis Team to open three new tennis courts in the Lower Manhattan portion of Hudson River Park. The new courts replaced those that had been closed in Battery Park City after 9/11.
More »