7 WORLD TRADE CENTER RETURNED TO NEW YORK CITY SKYLINE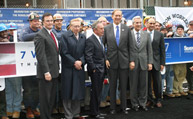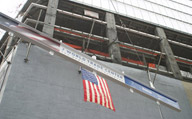 Governor George E. Pataki and Mayor Michael R. Bloomberg today joined Silverstein Properties President Larry A. Silverstein, the Port Authority, the LMDC, and approximately 500 construction workers at a topping out ceremony marking the completion of steel erection for the new 7 World Trade Center, which will replace the original Silverstein office building destroyed on September 11, 2001.
The final steel beam, which was adorned with the same American flag used in the topping out ceremony for the original 7 World Trade Center, was signed by Governor Pataki, Mayor Bloomberg, Mr. Silverstein and other dignitaries. It was then raised 750 feet in the air and placed at the top the 52-story building, which is striving to be the first certified "green" commercial building in New York City. The new 7 World Trade Center is taller and sleeker than the original. Its 47-story predecessor rose to a height of 640 feet. 7 World Trade Center was the last building to fall after the attacks of September 11, 2001 and is the first to rise.
More »