Splendor of Florence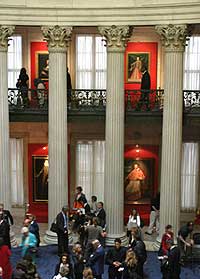 The Splendor of Florence Festival officially kicked off today with the opening of The Medici on Wall Street exhibit at Federal Hall in Lower Manhattan. This eleven-day free festival is taking place all over downtown from September 30 - October 10. The festival celebrates and honors distinguished Florentine artisans with cultural, educational, culinary, and musical events. Visitors can work with the artisans, listen to world-renowned musicians perform, view paintings from Florence's Uffizi Gallery, experience authentic Florentine cuisine, and attend a variety of educational events for adults, families and school groups.
Highlights include: The transformation of the World Financial Center's Winter Garden into a "Piazza Fiorentina" where renowned artisans recreate their workshops and demonstrate their talents on a myriad of material, and historic Federal Hall National Memorial's hosting of The Medici on Wall Street, an exhibit containing 22 magnificent 16th & 17th century portraits of the Medici family, the world's first art patrons, in an unprecedented loan from the Uffizi Gallery in Florence.
"The LMDC is committed to enriching Lower Manhattan's cultural community and to supporting its economic growth. The Splendor of Florence's choice of Lower Manhattan for this year's festival is just one more sign that downtown is back and better than ever," said Kevin Rampe, President of the LMDC, the presenting sponsor of Splendor of Florence. "The festival will not only be a unique cultural experience, but an economic boost for the downtown area - potentially drawing a quarter of a million people downtown. We are pleased to welcome the festival to lower Manhattan and hope attendees will enjoy the experience of Renaissance Florence without leaving New York City and take advantage off all that Lower Manhattan has to offer --- its restaurants, shops, open spaces and historic and cultural treasures."
Admission is free to all Splendor of Florence Events. Events at the Michael Schimmel Center of the Arts, the Multi-purpose Room at Pace University and the Museum of Jewish Heritage - A Living Memorial to the Holocaust are free, ticketed events.
For more information about Splendor of Florence please visit
www.splendorofflorence.com
or call (212) 945-0505.
More »